Welcome to One Harmony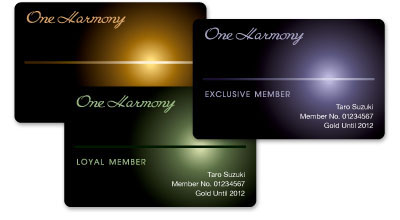 Discover a World of Elegance and Refinement in Our Free Membership Program.
Join Us for Special Offers!
News
2017.12.18
Now you can redeem your One Harmony points for a variety of items at Hotel Okura Group Restaurants. Enjoy the redemption items with superior meals.
Click here for details
2017.12.18
Your One Harmony Points Expiry
Points ae subject to a validity period. We recommend our member with points "Expiry January 31 2018" to redeem the points as soon as possible. You can confirm your current valid points on "
My Account
" and redeem the points for attractive
rewards
.
Special Offers

Earn a chance to win up to 4,000 points!
Through March 31, 2018, One Harmony members who stay at two or more different hotels (*1) during the qualifying period will earn a chance to win the bonus points . Point-eligible hotels stays (*2) and subscription to the One Harmony e-newsletter (*3) are required to qualify for this offer.
Click here for campaign details

One Harmony member special stay plan - Japanese Hospitality Around the World
The delightful worldwide locations of Okura Nikko Hotels are offering special stay plans for One Harmony members. Enjoy the hospitality of Japanese hotels, along with a trip full of new discoveries.
Click here for details
Contact Us
One Harmony
+81-3-3224-6617
Inquiry Form
9:30-18:00 JST
(Closed Saturdays, Sundays and Holidays)