Welcome to One Harmony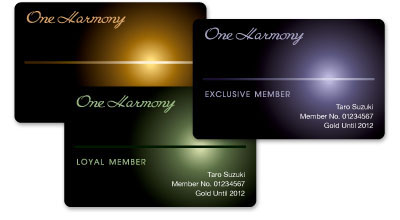 Discover a World of Elegance and Refinement in Our Free Membership Program.
Join Us for Special Offers!
News
2015.03.24
Delivery schedule of Premium Selection membership card.
For details
2015.03.02
On 1st of April, the new program, "Premium Selection" starts! Enjoy even greater benefits at your selected hotel.
For details
2014.08.27
Hotel Original Award and Gift Award pages are renewed! You can make the search easier for your preferable hotel and items.
Special Offers

One Harmony 2nd Anniversary Celebration Campaign!
The One Harmony program marks its 2nd anniversary in April. We offer the celebration campaign that include 100 winners with a top prize of 10,000 points for members.
For details

Early Summer Get-Away
Indulge in the luxury and leisure of resort life before the summer peak season. The resort hotels of the Hotel Okura/JAL Hotels group offer a variety of tempting plans.
More…
Contact Us
One Harmony
+81-3-3224-6617
Inquiry Form
9:30-18:00 JST
(Closed Saturdays, Sundays and Holidays)