Welcome to One Harmony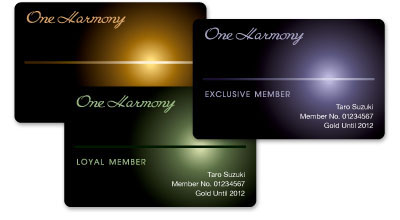 Discover a World of Elegance and Refinement in Our Free Membership Program.
Join Us for Special Offers!
News
2017.12.18
Now you can redeem your One Harmony points for a variety of items at Hotel Okura Group Restaurants. Enjoy the redemption items with superior meals.
Click here for details
2018.01.26
On 1st of March, We will announce Hotel Original Benefits Birthday Benefits, and Stay and Upgrade Award applied from April, 2018 to March, 2019 on oneharmony.com.
Special Offers

Earn a chance to win up to 4,000 points!
Through March 31, 2018, One Harmony members who stay at two or more different hotels (*1) during the qualifying period will earn a chance to win the bonus points . Point-eligible hotels stays (*2) and subscription to the One Harmony e-newsletter (*3) are required to qualify for this offer.
Click here for campaign details

One Harmony member special stay plan - Japanese Hospitality Around the World
The delightful worldwide locations of Okura Nikko Hotels are offering special stay plans for One Harmony members. Enjoy the hospitality of Japanese hotels, along with a trip full of new discoveries.
Click here for details
Contact Us
One Harmony
+81-3-3224-6617
Inquiry Form
9:30-18:00 JST
(Closed Saturdays, Sundays and Holidays)